After an insanely crazy day at the office, I am left sitting here fiending, lusting and craving a vacation. I've taken a few days off here and there (sick kids, dental surgery, random other necessary appointments), but I haven't taken any time for FUN things since last August when we went our honeymoon. Man, I loved that trip. We had such an amazing time. What I found so funny about it though is that our honeymoon was the FIRST trip E.V.E.R. that we had taken, just us, for longer than two days. How ironic is that? We get hitched... then decide to test the waters for our traveling compatibility, LOL. Thankfully, I think Jr.'s a pretty cool dude, and he seems to be able to tolerate me better than most, so our trip went very well:)
When planning our honeymoon trip, we had a couple criteria that had to be considered:
1. Couldn't cost a ton of money (that seems pretty obvious, huh?:)). We had already shelled our fundage for the wedding, so the honeymoon fund wasn't exactly huge.
2. Didn't want to spend our small amount of allotted honeymoon time traveling, so it needed to be somewhere close by. (I also didn't want to be ten hours away. What if something happened to the kids?? Always a mom:)).
3. It needed to be private. We rarely get time with just the two of us, so I didn't want to be surrounded by masses of people.
With those criteria in mind, I got to searching the big ole' web, and found what seemed to be the perfect deal for us-- River of Love Cabins in southern Oklahoma. (For some reason, I can't get my little link thing to work, so here's the address-- www.riveroflove.com). Named such due to being located in Love County, they consist of two privately owned cabins on about 60 acres of land that you are free to roam. Located near Lake Murray, a huge casino about 10 minutes away, and other fun activities, it was ideal for us. We went fishing, we went hiking, we went gambling, we went shopping at the nearby outlet mall. Kelly (the owner) would come pick up our dirty items everyday and change our linens while we were out running around. She had homemade cookies waiting for us when we arrived. But other than that, we didn't see a single soul. And that was wonderful. Even more impressive, the cabin, and almost every single piece of furniture inside it, was made by Kelly and her husband. Here's a few pics I stole/borrowed from her website.
**Note the hot tub on the back porch. Yes, we spent a lot of time there:)**
During our stay, Kelly and her hubby were working on their newest project-- The Love Caboose. They had purchased a real train caboose and had totally gutted the inside to turn it into a cabin. Here are a few pictures of the results: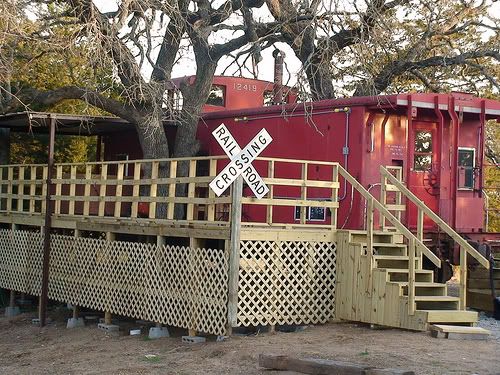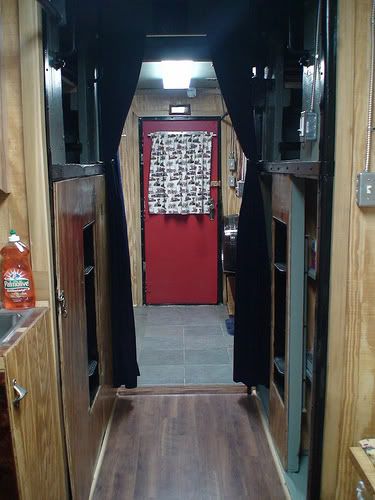 We've decided to go back for our anniversary, and to take the kids this time. Check out where they will sleep!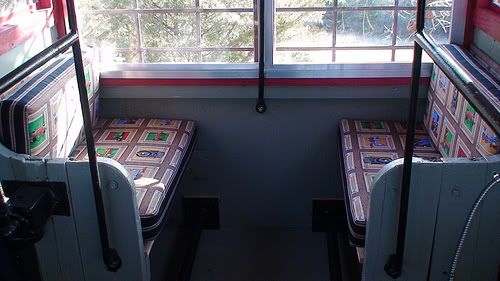 And this is where I plan on spending a lot of time:)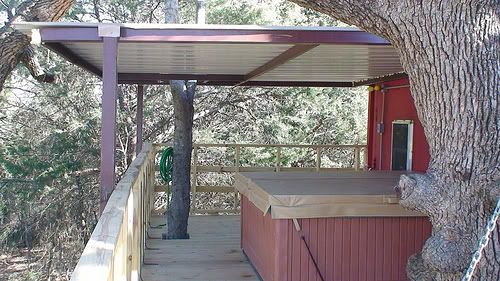 Even though it is months away, I'm just so excited about going. This will be the first "official" family vacation we've ever taken and the kids' are just going to go apesh*t when they see the caboose!! I'm really looking forward to that:) And I'm also really ready to sit on my butt and drink a cold one, watch the kids get filthy in the dirt, all while my man grills up some yummy food. Summertime rocks. And so does the River of Love.