Here's what I've been up to while you were blogging, and I was... well... not blogging.



Laundry. And when I say piles and piles... well, obviously I'm not exaggerating. I do laundry EVERY weekend, and since I wear the same five things over and over... this pile can not be blamed on me. How does this happen?? I place sole blame on my DH who owns more jeans at this point in time than I have owned in my entire life.


Paying "the man". Check out this stack of bills! HOLY SHIZ! It's like they all rolled in at once for some reason this month. There should be a law that regulates how many bills are allowed to be placed in your mailbox at one time.


Reading. I tend to go thru cycles on my reading. I'll consume numerous books for a couple weeks and then kind of taper off. Oddly enough, summer probably rates as my most productive reading time. I chalk it up to all the time I spend sitting on the porch and/or patio watching the kiddos run around. Here are the titles I currently have in rotation. 1. The Unlikely Disciple by Kevin Roose 2. Such a Pretty Fat by Jen Lancaster and 3. Temptation of the Night Jasmine by Lauren Willig. God bless the local library. (Except for the Jen Lancaster book-- her books are always "buy-worthy". If you don't follow her blog titled Jensylvania already-- GO NOW! Do not pass Go. Do not collect $200. )


I've also been spending much of my waking hours lately staring at these amazing new photos of my babies. How in the WORLD did I spawn such beautiful creatures?? (And yes, I took a picture of the picture. I was too lazy to scan it.)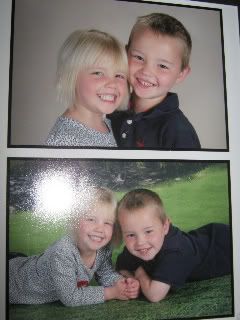 And finally, we spent Saturday hitting up the local Arts Festival. Indian Tacos. Botanical Gardens. Face-painting. People watching. All in one beautiful location. As you can, my boy has learned how to give you rabbit ears in photos. This, too, I blame on my husband.
I missed you all dearly-- and it's only been a few days!! I must get to reading all the blogs that you were writing while I wasn't!
XOXOXO!